[2020 Newest] Voopoo Drag Max Review - A Game-changing Dual-battery Device
Product Introduction and Specifications
---
The VOOPOO DRAG MAX, an epochal dual-battery device from the VOOPOO's Drag series, features the newly designed GENE Fan 2.0 Chipset, outfitted with a myriad of coils from the Voopoo PnP Coil Series, and can be used for both direct to lung vape and mouth to lung vaping style. The Voopoo Drag has been making a hit in the marketplace since first launched, from 60W Drag S, 80W Drag X, and today Drag Max has been upgraded to the most powerful dual 18650 177W device. What else the Drag Max may surprisedly vape enthusiasts? Let's kick it off!
Price: £ 45.99 (at NewVaping)
Colors: Classic, Galaxy Blue, Marsala, Vintage Brown, Vintage Grey
Voopoo Drag Max 177W Pod Mod Kit Specifications:
Dimensions: 122mm x 50.25mm x 25mm
Dual High-Amp 18650 Batteries
Wattage Output Range: 5-177W
Voltage Output Range: 6.4-8.4V
Resistance Range: 0.1-3.0ohm
SMART Mode / BYPASS Mode
Bottom Fill System - Press To Fill
Zinc-Alloy Chassis Construction
VOOPOO PnP Coil Series
0.2ohm PnP-VM5 Coil
0.15ohm PnP-VM6 Coil
GENE.FAN 2.0 Chipset
1.08" TFT Color Display
Two Adjustment Buttons
Intuitive Firing Button
Firing Speed - 0.001s
Press Fit Coil Installation
Magnetic Pod Connection
Type-C Charging Port
4.5mL Capacity
Voopoo Drag Max 177W Pod Mod Kit Package Content:
1x DRAG MAX Device
1x 4.5mL PnP Pod
1x 0.2ohm PnP-VM5
1x 0.15ohm PnP-VM6
1x Type-C Cable
1x User Manual
Build Quality and Design of Voopoo Drag Max Pod Mod Kit
---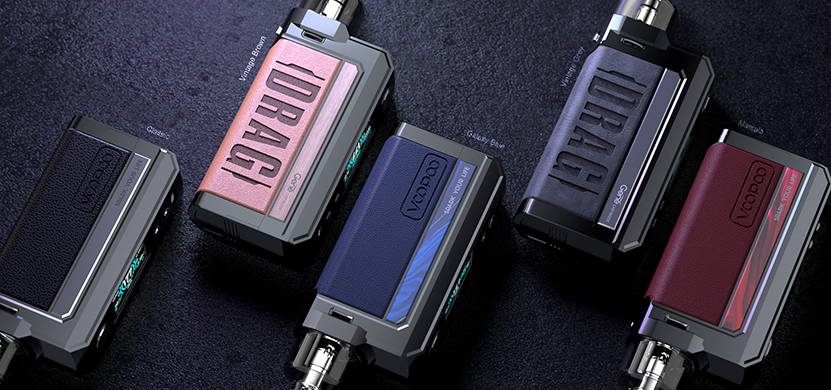 The Voopoo Drag Max is an exquisitely designed and sleek pod mod with a perfect size for dual battery device measuring 122mm by 50.25mm by 25mm that fits your palm perfectly. The durable zinc alloy frame coated with cold and tough metal, soft and gentle leather makes it an extremely premium device. The classic version of the device provides the Drag logo on the side of the device with a printed "Spark your Life" and "Gene Chip Inside" on either side of the device.
Features and Functions of Voopoo DRAG Max
---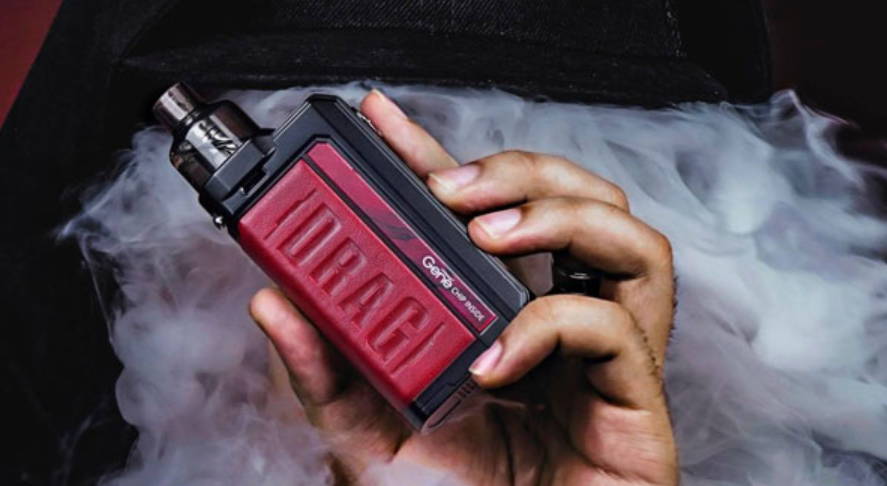 Comparing with the previous generation, the newly upgraded GENE.FAN 2.0 chip offers stronger explosive power, various fantastic functions and stable wattage output. For example, you can get an outrageous start of only 0.001s, an extremely powerful steady yield, and hyper-genius intelligence. The Voopoo Drag Max features a clear and beautiful 1.08' TFT colour screens, which displays all the vaping information such as wattage, voltage, resistance and puff count.
Voopoo Drag Max comes with two different styles of UI themes, simply pressing the "+" and "-" simultaneously to enter the UI switching interface. Voopoo Drag Max supports the SMART mode that is beginner-friendly and the power-free RBA mode desired by professional players. You can simply press the ignition key for 3 times to switch between RBA and SMART mode and the colour of the user interface on the display switch between blue to yellow. Under the Smart Mode (yellow interface) you could only fire up the power to 40W. The Smart Mode is capable of automatically read the resistance of the PnP coil-head you are using and adjust the power output accordingly. In RBA Mode (blue interface) you are able to fire up to the maximum 177W. You can lock all the buttons by pressing the fire button and the + button for a few seconds.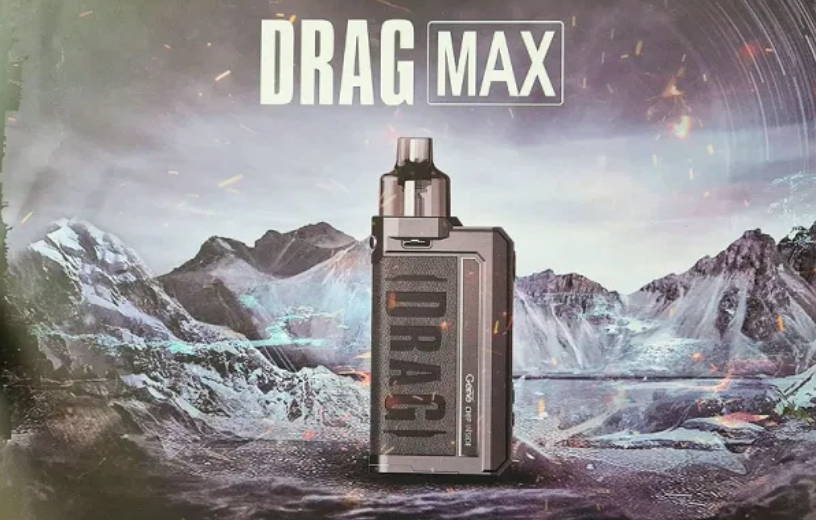 ---
Voopoo Drag Max is equipped with new upgraded 4.5ml magnetic suction pod and compatible with the array of PnP coils including RBA. The magnetic PnP atomizer platform is designed for a low-cost, universal atomizer system. The Voopoo Drag Max utilizes a convenient and sanitary filling design, you can fill your favourite vape juice or change the coil by simply pull and push. Both the pods and the coil-heads are interchangeable, you are allow to try their whole line of coils and pods if you have one of their PnP compatible devices. The dedicated PnP-VM5 0.2 coil and PnP-VM6 0.15 coil features the strongest combination of the PnP series that allows users to enjoy different vaping experience.
PnP-VM5: Resistance: 0.2Ω
Power Range: 40~60W
Recommended E-liquid: Nicotine≤10mg
PnP-VM6: Resistance: 0.15Ω
Power Range: 60~80W
Recommended E-liquid: Nicotine≤10mg
---
Voopoo Drag Max is supported by two external 18650 batteries to deliver long-lasting energy. The upgraded 5V/2A Type-C fast charge can increase the charging speed up to 50% that provides quicker access to vaping! It adopts the push slide kind of battery door with clear labels for battery terminals so that you can easily slot your dual 18650 batteries.
The VooPoo Drag Max is a sleek dual-battery device with the nicest looking. The PnP pod compatibility is designed to offer the best flavour and cloud to all vape enthusiasts. I would recommend this awesome device to those semi-beginner vapers.
---
Wellbuild quality
Lightweightand portable
Excellent DL performance
Comfortable hand feel
Nice airflow control
Impressive design
Fast firing speed
Amazing flavour
Easy to use
No pass through charging
No510 connection for other tanks