[2020 Newest] Voopoo Argus Pro 80W Pod Mod Kit Review -An All-around Powerful and Stylish Device
Product Introduction and Specifications
---
Voopoo Argus Pro 80W Pod Mod Kit, equip with the GENE.TT Chipset, featuring various output modes, and compatibility with the PnP Coil Series. The Voopoo Argus Pro possesses a comfortable hand feel and ergonomically fitting within the hand thanks to the durable zinc-alloy and accented with hints of leather. It is able to use in a myriad of modes to prevent the coil from burn hit or allow users to adjust their wattage power depends on different vaping needs. The type-C USB Port slot at the base offering fast charging and firmware updates. A magnetic connection for PnP Pod and coils sits firmly at the top, which is designed to support MTL or DTL vaping style.
Price: £ 25.99 (at New Vaping)
Colors: Carbon Fiber Black, Denim Silver, Vintage Grey Silver,
Litchi Leather Red, Litchi Leather Blue
Voopoo Argus Pro 80W Pod Mod Kit Features:
GENE.TT Chipset
Integrated 3000mAh Battery
Dimensions: 124mm by 35mm by 31mm
Wattage Output Range: 5-80W
Voltage Output Range: 3.2-4.2V
Resistance Range: 0.1-3.0ohm
Dual Slotted Sliding Airflow Adjustment
Smart Mode/ RBA Mode/ Manual Mode/ Double Ignition Mode
Zinc-Alloy Chassis Construction
Single Firing Button
Two Adjustment Buttons
OLED Display Screen
4.5mL Argus Pod
Bottom Fill System
Voopoo PnP Coil Series
0.3ohm PnP-VM1 Coil
1.0ohm PnP-R1 Coil
Press-Fit Coil Installation
Magnetic Pod Connection
Type-C USB Port
Voopoo Argus Pro 80W Pod Mod Package Content:
1x Argus PRO Pod Mod
1x 4.5mL PnP Pod
1x Silicone Pod Sleeve
1x 0.3ohm PnP-VM1 Coil
1x 0.15ohm PnP-VM6 Coil
1x MicroUSB Cable
1x User Manual
Build Quality and Design of Voopoo Argus Pro
---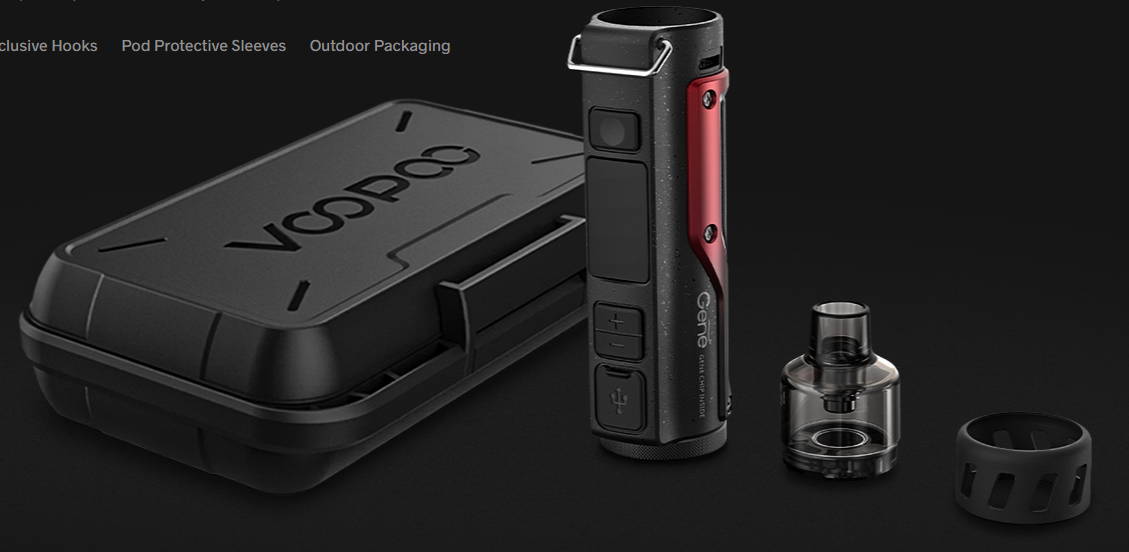 The Voopoo Argus Pro is packed in a nice plastic case. The first thought came to my mind is that it looks quite similar with the Drag X and Drag S. It is such a lightweight and compact device measuring just 124mm length, 35mm width and a depth of 31mm. The Voopoo Argus Pro pod mod is constructed by durable and strong zinc alloy chassis, creates the most comfortable grip with ergonomic design through the use of multi-curve curves. The delicate metal and leather, the perfect combination of colour and arc body fits the palm properly and is super easy to carry. The entire construction is fairly well made and the machining is excellent top-notch. The Single Firing Button and Two Adjustment Buttons are well-made and responsive. The 0.96-inch colour screen looks so impressive and beautiful, showing all the vaping details you will need like battery life, wattage, voltage and resistance.
Functions and Features of Voopoo Argus Pro
---
The Voopoo Argus Pro utilizes a dual firing mechanism so that you can simply activate your device by pressing the responsive fire button or inhale to activate. It boasts the intelligent GENE.TT chip that will take you to an unprecedented wonderful vaping journey. The device can be ignited in a really short time of 0.001 seconds. It is also capable of intelligent identification of coil, Smart mode and RBAmod etc. The Voopoo Argus Pro comes with a variety of protection like temperature protection and overcharges protection to provide a safe vaping experience. Integrated with a powerful 3000mAh battery, the Voopoo Argus Pro is able to fire up to a maximum wattage of 80w that bring instant big cloud. And you can adjust the power range from 5W to 80W dependant of your vaping style.
The RBA mode can be adjusted according to your preferences, allowing you to fully control the power output and enjoy its charm.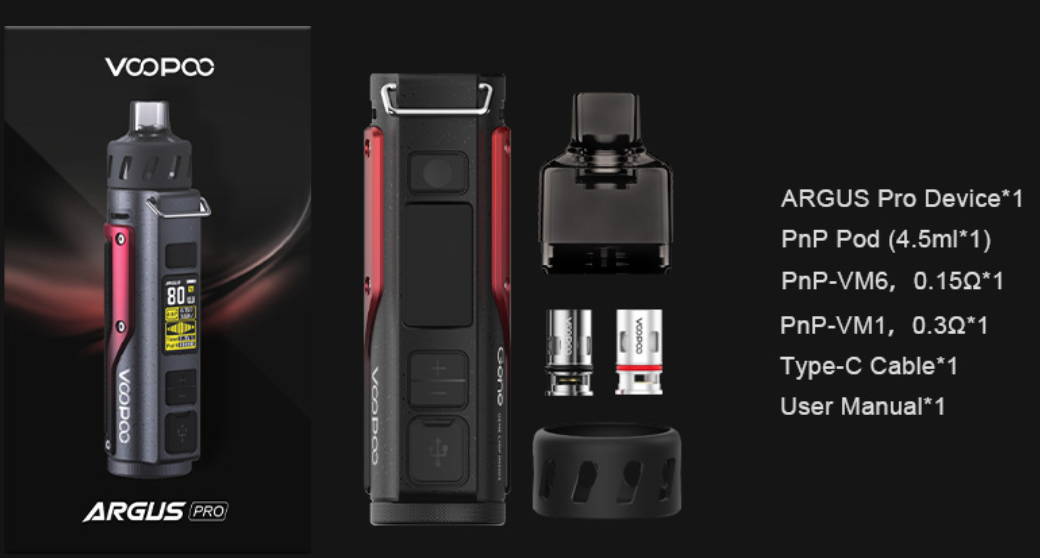 ---
The Voopoo Argus Pro is compatible with new upgraded 4.5ml magnetic suction pod that offering an enjoyable experience to its perfect taste. It is packed with two different coils, including PnP-VM1 and PnP-VM6, which will definitely take you to the big clouds and incredible flavours. Voopoo Argus Pro is compatible with all PnP coils including RBA, providing convenient and affordable access to enjoy different vaping experience. The Voopoo Argus Pro adopts the innovative infinite airflow system, which allows users to adjust the airway dependant of their own vaping preferences. It is amazing that all PnP coil types are compatible with this cartridge. Besides, the Voopoo Argus Pro boasts plug n play and a convenient bottom plug fill the system that makes filling an easier task. It integrates with strong magnets so that you can attach cartridges in any direction.
Battery Performance and Charging
---
Voopoo Argus Pro uses a powerful built-in 3000mAh battery, which has an excellent performance at a whole day vaping at low ohms. It is perfectly equipped with type-C and 5V / 2A fast charging as an excellent backup to break the power anxiety.
---
Impressive design
Affordable price
Fantastic flavor
Awesome cloud
Clear display screen
Large juice capacity
Excellent build quality